A Diversity of Experiences Shared at OLMC Women in Leadership Forum
Speakers inspire with messages of couyrage and service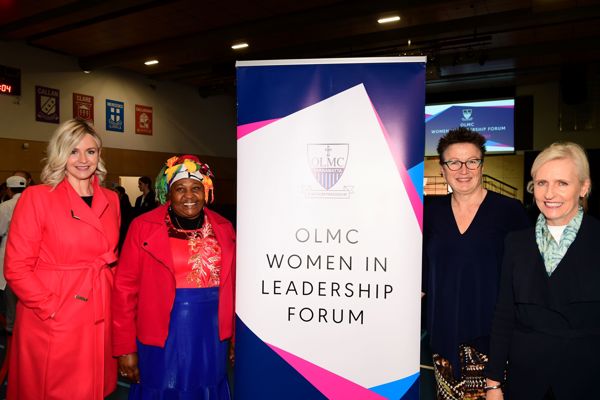 On Wednesday 25 May, Our Lady of Mercy College Parramatta held its annual Women in Leadership Forum in the Ailsa Mackinnon Community Centre.
Students, staff and families were joined by alumnae and visitors from other schools at this inspirational evening. The event was a chance to hear from a panel of women which included Multicultural Community Liaison Officer, NSW Police Force and facilitator of the Cultural Exchange Program, Rosemary Kariuki-Fyfe, Founder and CEO of Mentoring Women, Founding Director of Western Sydney Women and Founder and CEO of Small Business Women Australia, Amanda Rose, Paediatrician and Paediatric Rehabilitation Specialist and Head of the Kids Rehab Department at The Children's Hospital at Westmead, Dr Mary-Clare Waugh and Advisory Board Member of Advise Wise and member of the Advisory Council for the Sydney Women's Fund, Joanna Ryan. With key themes of bravery and responsibility featuring throughout the night's discussion, the speakers imparted their perspectives on women and leadership, sharing their stories of successes, opportunities and challenges.
Rosemary Kariuki-Fyfe kicked off the evening, sharing her view that we are all born leaders. She passionately urged all to never see a need without doing something: "Good leaders always go that little bit beyond, and they believe they can change a negative to a positive." Amanda Rose focused on ethical leadership and the importance of leaders realising the influence and responsibility that they have: "Your values are the number one thing you need to hold onto and never let go. As a leader, your values are your core." For Dr Mary Clare Waugh, leadership is about being enthusiastic, brave, and having courage. She also spoke about the importance of keeping a sense of humour. Joanna Ryan encouraged all women to be brave, to take calculated risks and to seize the day: "Say yes to every opportunity and be your own cheerleader!"
Principal Lucie Farrugia said she was inspired by their messages of courage and service and how they resonated with our Mercy community: "This was an extraordinary night where all our speakers inspired and ignited in us a sense of limitless possibilities."
Established in 1889, OLMC Parramatta is a leading independent Catholic girls' school which provides contemporary and innovative learning in the rich Mercy tradition. As one of the oldest Catholic Girls' schools in NSW, our rich history of excellence inspires our young Mercy women to expand beyond what they know they can be and to lead with courage and act justly, making a difference in an ever-changing world.
Back to all news
More News Stories