Leading the Way: Our Journey towards a Greener Future
Sustainable practices at OLMC to reduce carbon emissions.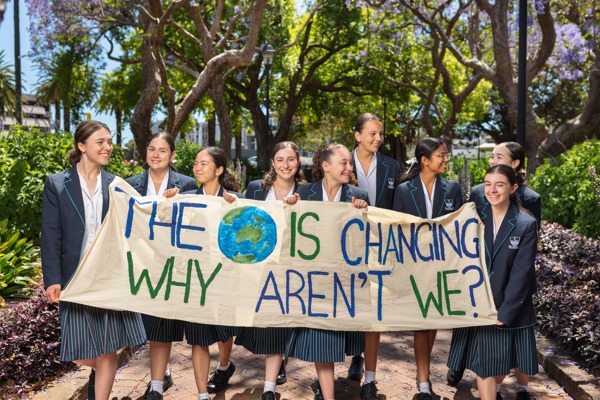 "We, Sisters of Mercy Parramatta Congregation, will protect the rights of the natural world and make practical efforts to stem the hurtful effects of climate change, pollution and the 'throw away' mentality." (Chapter Statement)
Every year in Australia, blister packs contribute to an astounding 1,500 tonnes of waste (Chemists' Own website market data 2022). These small plastic packages commonly used to store medications such as Panadol may seem harmless, but their environmental impact is far from insignificant. Imagine the scale of this problem globally. As the world grapples with mounting environmental challenges, Our Lady of Mercy College Parramatta(OLMC) is on a mission to champion sustainability at a local level.
Recognising the urgency of the situation, our staff and students have embarked on a journey to weave sustainability into many aspects of our operations. From tackling blister pack waste to implementing innovative initiatives, the College is creating a greener future for generations to come.
Our Strategic Plan (2021-2025), describes the College as a 'future-focused community.' Pillar 5 of the Plan outlines our commitment to responsible stewardship and initiatives. One of these initiatives includes our recent uptake of the Climate Clever project through Parramatta City Council. Through the recently established staff group, Mercy Sustain, the College formed a partnership with Council at the beginning of 2023 enabling us to accurately measure our carbon footprint with the overall aim of reducing carbon emissions.
A 'carbon footprint' is the total amount of greenhouse gases (including carbon dioxide and methane) that are generated by our actions. Carbon emissions have devastating effects on the environment. Reducing carbon footprints can mitigate these effects because the less greenhouse gases we emit, the less we contribute to global climate change. By making small changes to our actions, we can start to make a big difference.
Gabby Scanlon, Director of Identity of OLMC and Co-Chair of Mercy Sustain, is at the forefront of leading the way towards sustainable practices at OLMC. 'Our goal is to be an example of environmental stewardship and inspire other schools and businesses to follow suit. Through innovative strategies, like Climate Clever, we are paving the way towards a sustainable future.'
The College has already started to make changes. Solar panels have been installed on the roof of the new Northern wing of the Brigid Shelly Building. Solar power produces no emissions during electricity generation and therefore has a smaller carbon footprint than fossil fuels.
LED lights, which are not only more energy efficient than the traditional fluorescent tube lights, but are also recyclable, are being installed throughout the College. Air conditioning units are being replaced with more current systems that are more efficient and are safer for the environment.
At the same time, students in our ecoOLMC co-curricular are creating awareness of issues that can lead to sustainable practices. Participation in events such as Earth Hour, in which every classroom and office space switched off electricity to show their support, is on the increase. This initiative also saw students wearing blue, white and green clothing to school to represent the colours of our planet. Students and staff have also been a strong advocate for climate action by attending the School Strike 4 Climate Change protests.
Emily Orszulak and Yasmin Sampaio (Year 11) were in Year 8 when they saw a need to recycle bottle lids to prevent them from ending up both in landfill and in our oceans. After their continuous recycling effort, staff and students have got behind the initiative to create a beautiful bottle lid mural in the shape of a turtle. This is a reminder of the College's commitment to decreasing plastic use to protect our wildlife.
Emily is a strong advocate for sustainable practices and believes 'The actions we take today determine the world we'll inherit tomorrow. Sustainability isn't just an option; it's the key to safeguarding the health of our planet. Let's make conscious choices and prioritise sustainable practices, ensuring a vibrant and flourishing future for generations to come.'
The College community is very excited to expand sustainable initiatives in the future, and collaboration is already underway to continue our progress.
Back to all news
More News Stories